Hello Internet people, in this post, I'll do an Etoro review and show you how I'm doing after 6 and 14 months of investing. I'll reveal what I like about Etoro and what I sucks.
Also you might want to read my Etoro fees in UK & EU article, to understand that there are costs involved.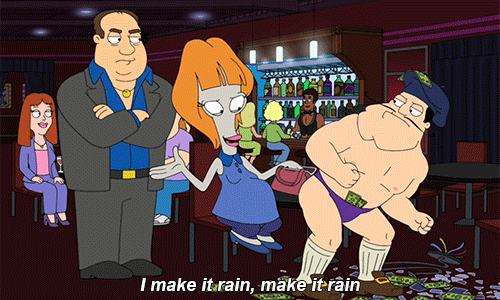 CONTENTS
Etoro review after 6 months
Here is my video review of eToro:
I've been playing around with Etoro for 6 months now and I do really like it. And I think it's easy to use and I really like the copy trading feature. That's why I thought I'll make a review about it.
It's a good way to get into investing with a bit less risk. You don't really do much when you copy other traders, but at least you can see how things are done.
You should try it yourself, just keep in mind that just invest what you are prepared to lose. Especially, if you getting into cryptocurrency investing. Don't invest in anything, if you can't afford to lose everything.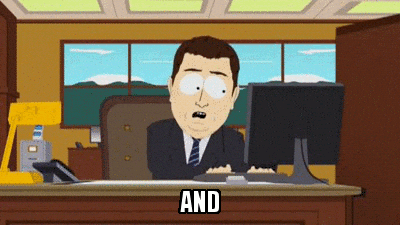 Let's take a look at what has happened during the last 6 months.
As you can see I have everything in green while following 3 people. They all show growth and it all looks way too good to be true…
And it's not all sunny, here is a real picture of the situation.
As you can see the first month was a bit of a disaster. I got really excited about cryptocurrencies, I invested and it dropped, dropped by a lot!
It dropped by 36% and that's where my losses came.
That's okay and I learned the hard way and now I try to distribute my risk. Especially with cryptocurrencies, you have to be careful, otherwise, it doesn't end well.
But, I learned my lesson, and I decided to invest my money by following other traders.
As you can see after that, I had a much better record and I'm getting closer to getting my money back.
Etoro Pros and Cons
Things I liked about Etoro:
Easy to start investing.
Copy trading – you can just follow other traders and they make you money (if all goes well).
Includes different types of investments, such as stocks, cryptos, commodities, etc.
Things that are
not great
on Etoro:
Doesn't include all the available stocks, just 200-300 biggest companies, and some international companies. I think there is not wide enough option to choose.
You don't own the stock or crypto, it's speculative. So if there are any issues you are not in a great position.
If you are in Europe the conversion rate is high (about $25 for 1000 euros).
Need at least 1000 euros, otherwise, costs eat up your profit
Tips and thoughts
That said I really like the social trading. And I felt it fits my needs. Etoro has fairly high costs, you can read more about it in my article about different Etoro fees.
If you want to try it, I would save up at least $1000 (Although minimum deposit is $500) and then invest by copying traders.
Make sure you research traders properly before committing to them.

Etoro review after 14 months
UPDATE. Just a quick sequence to my Etoro review post.
I'm going to show you the growth of profits and what has happened in the last 8 months.
Here is a video of the review in 2018:
Etoro profits in 2018
My profits increased steadily during 2018. Nothing drastic but nice and consistent upward line.
Below is a screenshot of my results.
On top, you can see what was going on in December 2017.
And below you see the results in July 2018.
As you can see, I still copy the same traders and they are doing a bit better than 8 months ago. I went from $152 in profit to $218.
So that means in a year I've gained about 23%.
When you compare that with S&P 500, which rose by 15% during the same period. So not too bad.
This is my plan for my money…
Now my profits were higher at some point, as Jay was riding the crypto wave, but unfortunately, it has dropped while crypto market plummeted.

Is Etoro trustworthy?
So far I haven't had any issues with eToro, it all seems to be legit.
I got some comments on my last video that they got scammed, but I can't verify one way or the other.
.
For me, the experience has been good. The only thing with eToro is the high costs.
If you have had a bad experience with them, please let me know. I'm curious to hear what has happened.

Best Etoro traders to follow
Let me explain, why I follow below 3 traders.
Trex8u247
First trader, Dale (Trex8u247), I chose him because he had a low-risk portfolio. Luckily he picked the right stocks and he is generating nice profits on investment.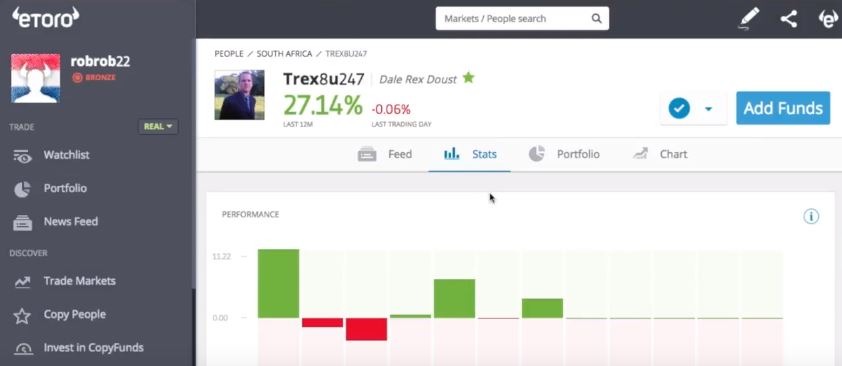 His risk level was about 4-5. He was mainly trading stocks of big and well-known companies.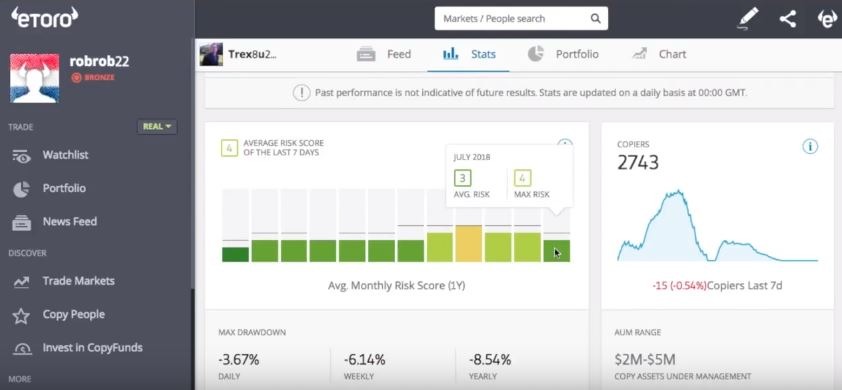 Jaynemesis
Second guy is Jay (jaynemesis), he is a cryptocurrency guy. He is followed by a lot of people, about 11000. He is doing pretty okay. As mentioned above, he had a rough few months when cryptos crashed.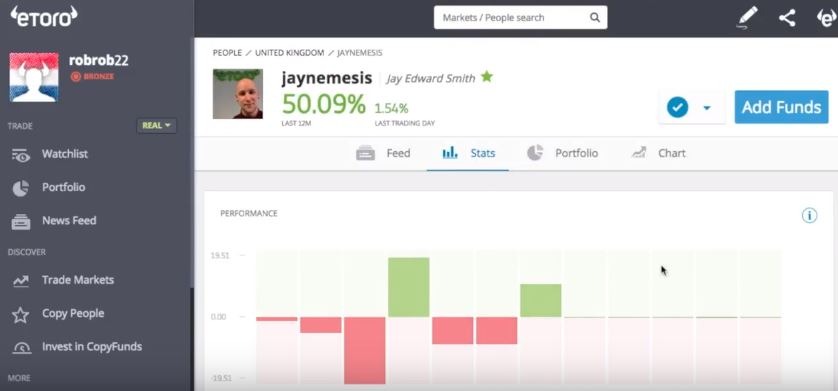 His risk rating is higher about 6 to 7, but I like to balance my small portfolio with low & high-risk traders.
AlexPlesk
Lastly, there is Alexander (AlexPlesk), who is mainly investing in US & International stocks. He is doing really well and he has been most steady one, with great profits from the start.
When I'll add more money to Etoro, I'll for sure add more to his portfolio.
His risk level is about 5-6, so he is between Dale & Jay.
Etoro profits 2017 vs 2018
Below you can see how much my ROI grew from 2017 to 2018.
| | | |
| --- | --- | --- |
| Name | 2017 ROI | 2018 ROI |
| Dale | 5.88% | 26.02% |
| Jay | 19.30% | 18.48% |
| Alexander | 20.41% | 26.44% |