With the overload of options available, picking the right tool to build your website can be a daunting task. The choices might seem endless, but I'm here to simplify things for you and show you what is the best website builder for you as a creator.
Let's break down the tools into categories based on what they offer, starting from the most basic and moving up to the feature-rich giants.
If you prefer video format:
---
Hi, I'm Robert. 👋
I'm here to help creators with the technical side of the business. Whether you're an author, coach, podcaster, or creator, I'm here to simplify website & marketing tools so you have more time to focus on your core business. Learn more about my services
---
1. The Best for a Quick and Simple Website
The easiest way to have a website is by signing up with Link in Bio tools like Koji or Linktree. These tools create a simple website with a few links that connect with your social media or promote your affiliate offers.
The core benefit of Link in Bio tools is the convenience of having everything in one place. Set it up in an estimated 15 minutes, and you're good to go. You can link to this page from Instagram, YouTube, or any social media you use, centralizing your online presence in a single location.
"Link in Bio tools are a super beginner-friendly option & most are free to use. They only take a cut if you sell something or get donations."

Robert R.
2. The Best for Blogging
If you're looking to make text versions of your videos or podcasts, then Ghost or WordPress would be ideal for you. Ghost was created as an alternative to the more complex website builders, embodying what WordPress was about ten to 15 years ago—a pure blogging platform.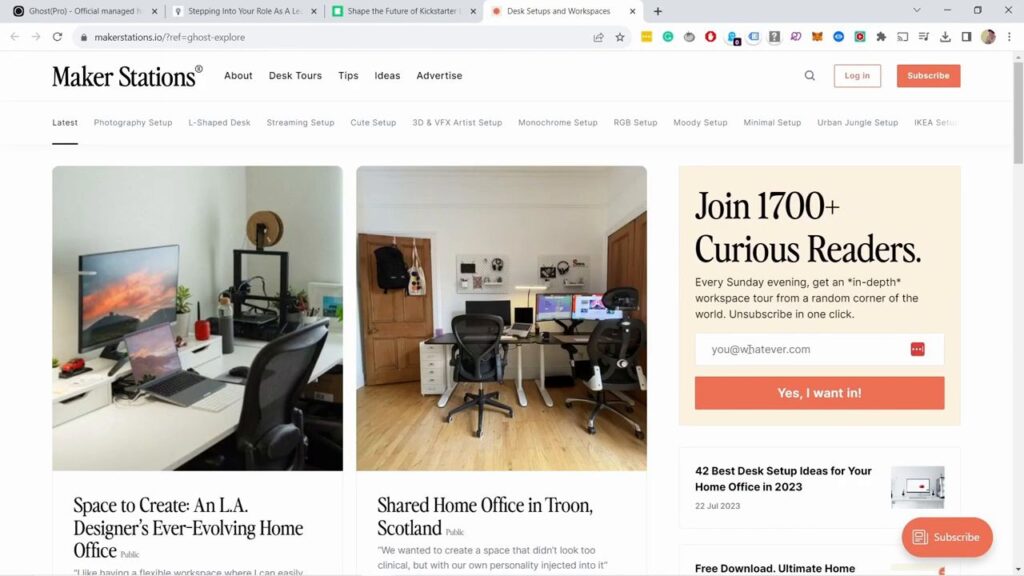 Ghost is lightweight, fast, and designed with a clean, intuitive user interface. This design allows you to focus on writing and publishing without any unnecessary features causing distractions. Surprisingly, Ghost is even used by many well-renowned companies for their blog posts.
You need to pay for the web hosting; there are no other costs. And the plans start from 9 dollars per month.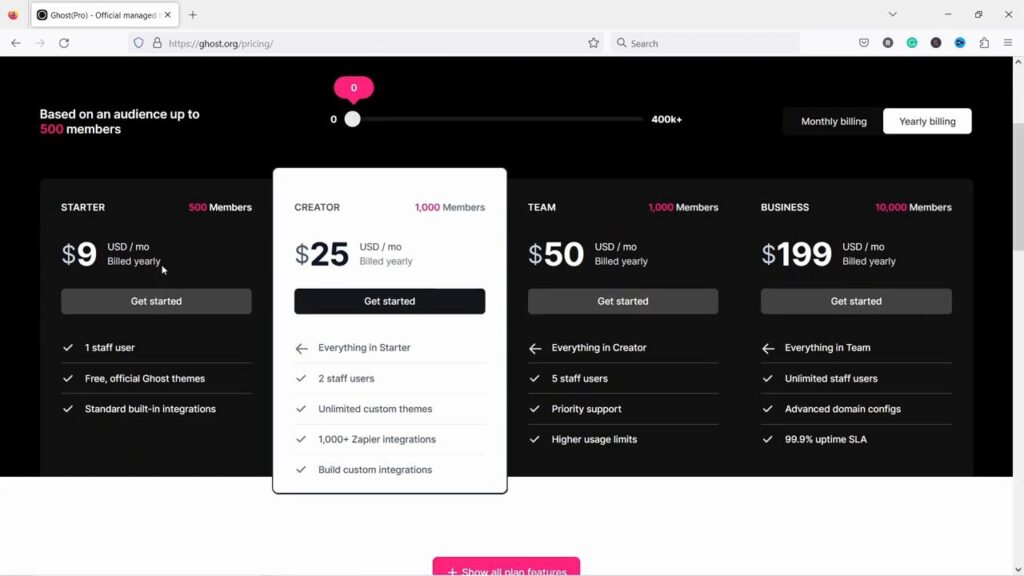 On the other hand, WordPress would be a better fit for those seeking more comprehensive functionalities as it caters to almost all website-related needs. I'll talk about WordPress later in this blog post.
Who is Ghost for?
Anyone who wants to focus on publishing content, growing their email list, and offering free or paid memberships. It's hands down the easiest way to start a blog.
3. The Best No-Code Website Builders
Wix is a suitable tool when you want to design and publish your websites without any coding knowledge. Wix provides an array of templates and an easy-to-use editor, leaving you with a great-looking website and an easy interface.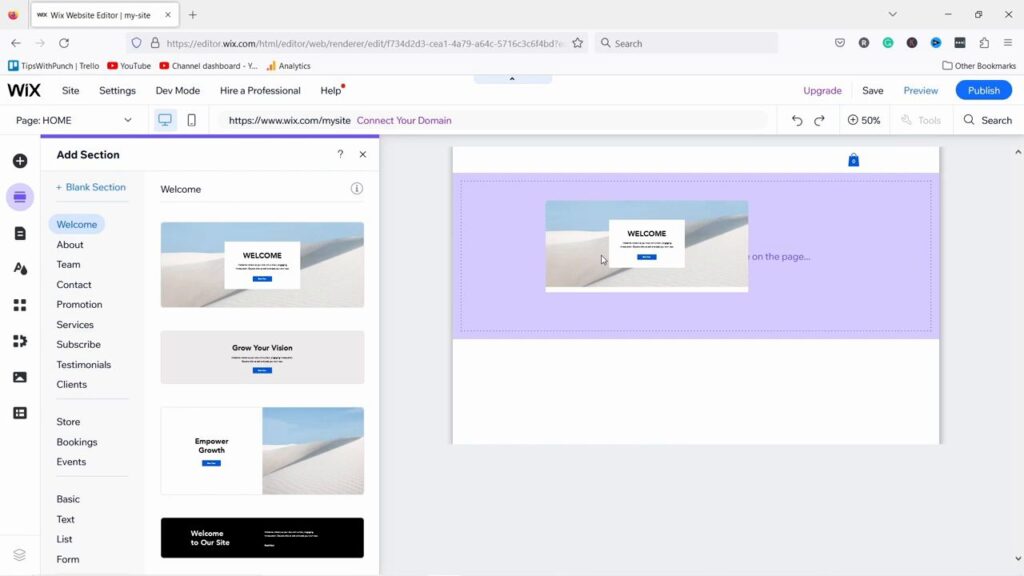 Although Wix has a free plan, you'll soon need to upgrade to a paid plan starting from about $10 a month. This upgrade opens up functionalities like adding your custom domain name. And don't worry. Wix's dedicated support team is at your disposal to help you tackle any issues that may arise.
Who is WIX for?
If you need a traditional website with the ability to sell digital stuff and book appointments, you are going to be happy with Wix. It also scales easily, even if you get thousands of visitors per day.
4. The Best for Selling Physical Products
If you aim to sell physical products online, this calls for Shopify.
Shopify offers incredible e-commerce features, all embedded in a secure and reliable platform. Despite its higher price—starting at around $30 a month—Shopify is worth the investment thanks to its extensive features and scalability.
"Shopify is easy to use and scales well with growing demands and bigger companies."

Robert R.
Shopify has been designed specifically for online stores. It integrates with many payment gateways, and it's super secure and reliable. You have all the eCommerce features you can think of since you can purchase more features in the Shopify app store.
The drawback of Shopify is that it can get pricey. The prices start from just under thirty dollars a month, which is not too bad. But once you start adding apps, the costs can easily triple or quadruple from there.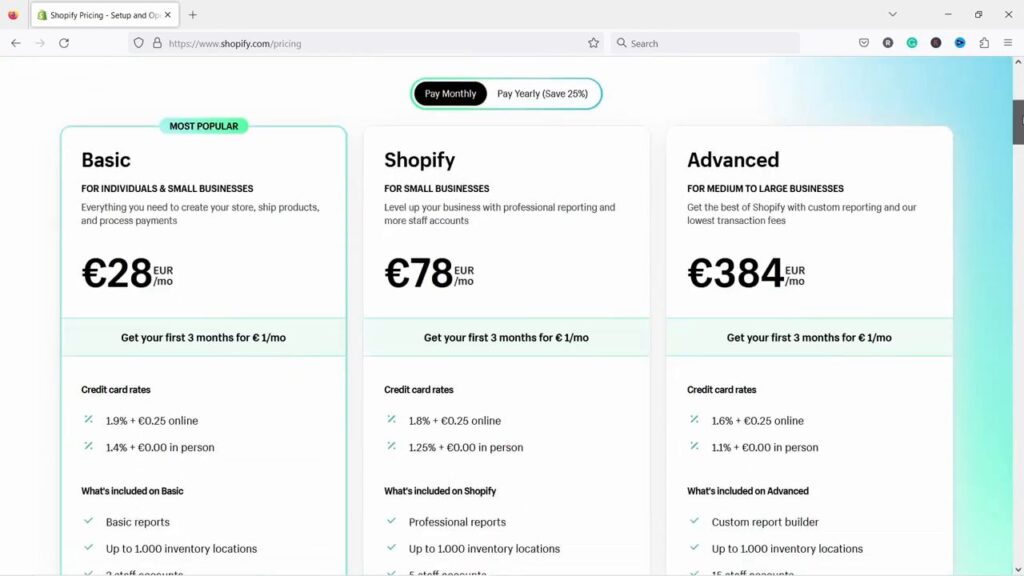 As an alternative, you could also consider WooCommerce for WordPress, which is a cheaper yet strong option.
5. The Best for Course Creation
When it comes to selling courses, you have an ocean of choices. Your choice would widely depend on the features you're seeking. But let me introduce you to my two favorite platforms.
Teachable – Perfect for beginners
For a basic, user-friendly platform, opt for Teachable. It's an excellent tool for launching your first course with a free plan and a commission-based pricing model.
That said, it has limited page builder. You can do the bare minimum with it. You would need another platform to create a website and landing pages.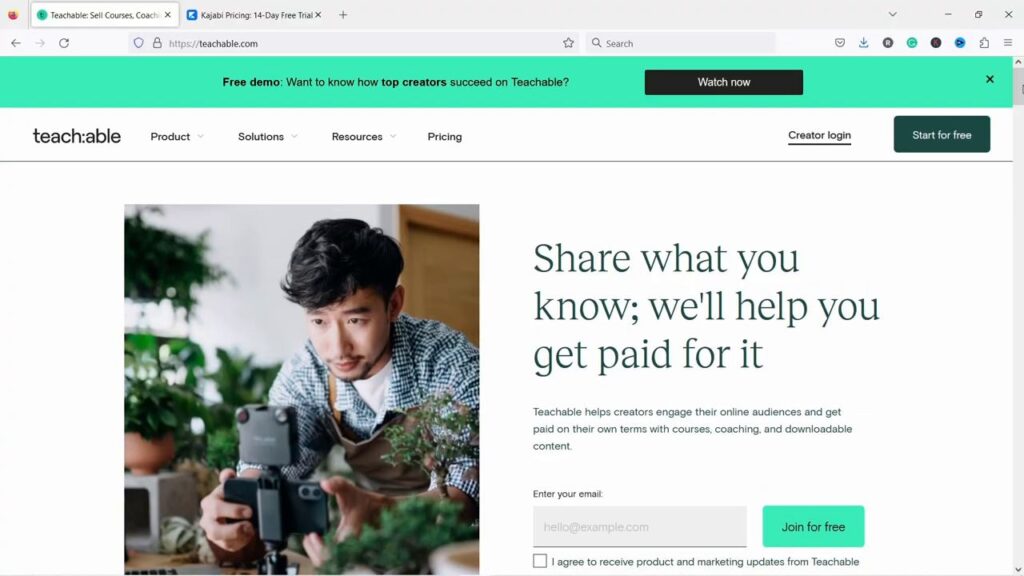 Kajabi – for people who want all features in one tool
Contrarily, Kajabi is your all-in-one solution for building a website, email marketing, course creation, community creation, and much more. Despite its startling starting price of $149 a month, the features undoubtedly save you time and integrate seamlessly, offsetting costs.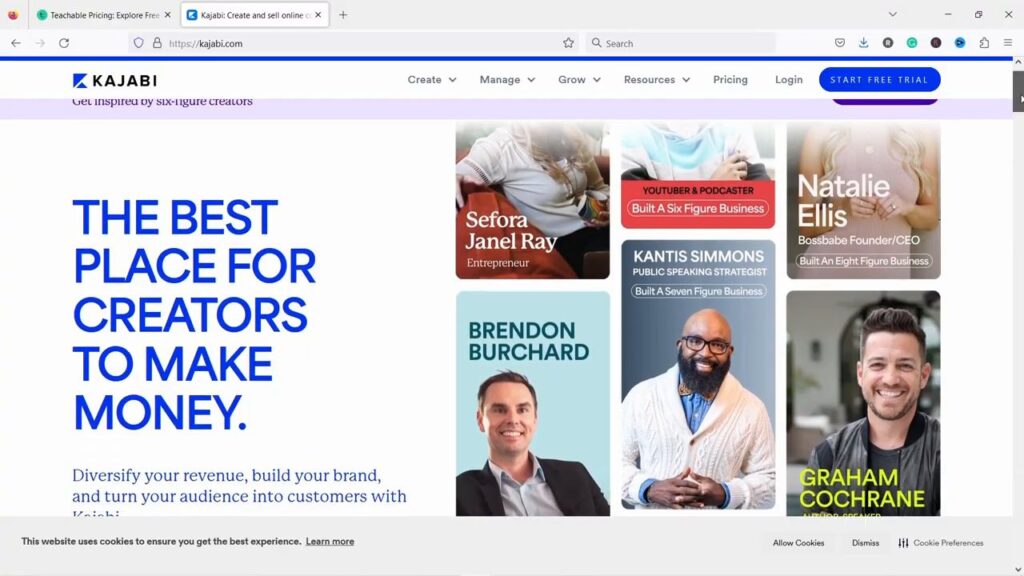 So I would say Kajabi is best for people who already have experience with selling courses or who want to get the best tool for courses and save time on integrations.
6. The Best All-Rounder
For the creators desiring a nuanced platform with adaptability to their ever-fluctuating needs, WordPress.org is the answer. Not to be confused with WordPress.com (which is a web hosting), the .org version is a free, open-source CMS.
One of the least costly tools out there, WordPress only demands payment for web hosting, making it a much cheaper alternative to many of the platforms mentioned earlier.
"WordPress can do almost anything. You can set up a membership site, sell physical or digital products, start an email marketing platform, sell courses…"

Robert R.
The benefits of WordPress:
It's one of the cheapest tools in this article. You pay for the web hosting. And then, if you need some extra features, you can download plugins. Some cost extra, but many have free plans that will get you pretty far. I'll add a link in the description to my favorite web hosting.
WordPress is the most feature-rich Content Management System (CMS) and website builder.
It's highly customizable. If you can't do it, then you can hire a developer easily from websites like Fiverr or Upwork.
You have tens of thousands of tutorials on YouTube. I mean I have more than 80 videos related to WordPress on my YouTube channel. So, it's easy to learn how to do things if you get stuck.
The Drawbacks of WordPress:
It takes time to learn how everything works, as it just gets super messy and cluttered.
WordPress itself is super robust, but because you will be using plugins built by different teams, there will be issues. Sometimes, my website just crashes after a plugin update. So expect issues occasionally, you will need to fix issues, and you won't know what caused them.
With WordPress, You are on your own. If any issues arise, you have to solve them, Or you need to hire someone to solve them. There is no support that you can call or message.
Since more than 40% of the websites run on WordPress, Hackers tend to target WordPress websites. So you need to be careful there and have all the security plugins enabled.
My recommendation
Just start with whatever is the easiest and think what is your current goal. You can always move from one platform to another. The most important thing is that you start. That's the only way to learn what features you need and which are useless.
If you need my help then book a one-on-one coaching session or my professional website building services, learn more about our website services here.